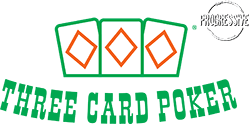 ---
Three Card PokerSM Progressive enhances the most popular specialty game of all time with an optional $1 progressive wager.
HOW TO PLAY

To begin each round, players make their standard Three Card Poker wagers and the optional $1 progressive wager. The dealer then follows house procedures for Three Card Poker. If a player's hand qualifies for payouts, he or she wins according to the posted paytable (contact your Light & Wonder Account Executive for more information on the paytable and odds).

If players gets an ace-king-queen in spades, it triggers the progressive jackpot. Hands containing an ace-king-queen suited, three-of-a-kind, and straights trigger a flat payout. If players makes the progressive wager and their hand does not qualify for payouts, they may still win the Envy Bonus payout if at least one player has ace-king-queen suited. A player cannot win Envy bonuses for his or her own hand or the dealer's.

To maximize game play, we recommend using an i-Deal single deck specialty shuffler.