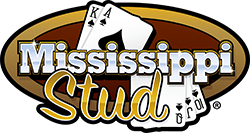 ---
Mississippi StudSM Progressive adds a lucrative progressive bet that pays up to 100 percent of the jackpot for a royal flush.
HOW TO PLAY

To begin, players make an ante bet to receive their first two cards. They may also make the optional progressive bet. The dealer will place three community cards face down in the middle of the table. At this point, players may either fold or make the Third Street bet of 1x to 3x their ante.

The dealer then reveals the first community card. After the first community card is revealed, players have a choice: fold or make the Fourth Street bet of 1x to 3x their ante. The dealer then reveals the second community card. Players can fold or stay in the game by making the Fifth Street bet from 1x to 3x their ante.

After the dealer turns over the final community card, all remaining wagers are resolved. Players win if their five-card hand is a pair of jacks or better (pairs of 6s - 10s push).

The optional $1 progressive bet wins if players have three-of-a-kind or better. The top award, 100 percent of the jackpot, pays when a player has a royal flush. Is a players has a straight flush, he or she wins 10 percent of the jackpot.
The top two hands trigger Envy bonuses. Players win if any other player gets a royal flush or a straight flush. A player can win multiple Envy bonuses in a round but cannot envy his or her own hand or the dealer's.

To maximize game play, we recommend using an i-Deal™ single deck specialty shuffler. For more information on this game's paytable or odds, please contact your Light & Wonder Account Executive.