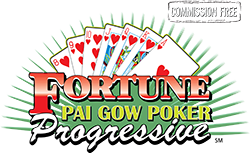 ---
Commission-Free Fortune Pai Gow PokerSM Progressive features head-to-head play against the dealer, a progressive, and two optional bonus bets.
How to Play

This is a commission-free game. Players do not pay 5 percent commission when they beat the dealer; rather, when the dealer plays 9-high in his or her low hand, players automatically push.

To begin each round, players make a standard pai gow wager. They may also make the Fortune BonusSM and Dealer Bonus wagers.

These bets wins if the player's best possible five-card hand is three-of-a-kind or better. If players wager at least $5 on the Fortune Bonus, the dealer will place an "envy" button next to their bet. This qualifies players o a bonus payout when any other player at the table has at least four-of-a-kind.

Note: Players cannot envy the dealer's hand or their own hand.

The Tiger 9 bet wins if the dealer is forced to play 9-high in his or her low hand.

The optional progressive wager qualifies players for all or part of an incremental jackpot.

For more information on paytables and odds, please contact your Light & Wonder Account Executive.