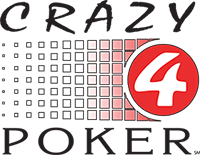 ---
Crazy 4 PokerSM Progressive features all the exciting elements of the original game while adding new betting options and higher payouts.
HOW TO PLAY

To begin, players must make equal Ante and Super Bonus wagers. Players and the dealer will each receive five cards to make their best four-card poker hand. After seeing their cards, players may either fold or stay in the game by making the play wager, which must match their Ante unless they have a pair of Aces or better. If players have at least a pair of Aces, they may bet up to three times their ante. The dealer qualifies with a King-high or better.

When players beat the dealer's qualifying hand, their Ante and play bets win even money. When the dealer qualifies and beats a player's hand, his or her Ante and play bets lose. When the dealer does not qualify, his or her play bet wins and the Ante bet pushes. Super Bonus and Queens UpSM wagers are resolved normally.

The optional $1 progressive bet wins if a player has a three-of-a-kind or better. If a player's hand contains four Aces, he or she wins 100 percent of the progressive jackpot. The top three hands trigger Envy bonuses, and players win if any other player receives a straight Flush or better. Players can win multiple Envy bonuses in a round, but they cannot receive an Envy Bonus for their own hand or the dealer's hand.

To maximize game play, we recommend using an i-DealTM single deck specialty shuffler. For more information on the paytable or odds, please contact your Light & Wonder Account Executive.